Ms Müller Must Go!
by Lutz Hübner
Translation by Mihkel Seeder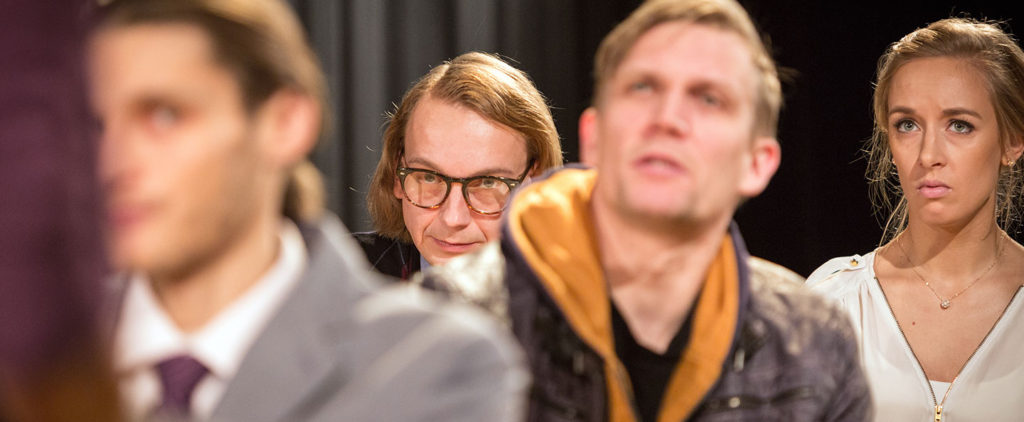 Do parents lie?
The parents have gathered to the parent-teacher conference with a clear aim – to get rid of teacher Müller! This teacher has lost all control over the pupils and instead of a supportive learning environment anarchy prevails. The children are nervous, pick fight with each other and worst of all – get bad grades. Some say that this is because of problems in the teacher's personal life. Maybe she needs a break? It doesn´t matter what the reason is, the parents can no longer look away while the welfare of their own children is at stake. But to their surprise this experienced teacher will not accept her fate and performs a counter-attack.
The well-known German writer Lutz Hübner describes with witty humor the parents' turmoil. The German and Estonian education systems are quite different, but when observed closely, both countries reveal very similar problems. In a success-oriented society it is of pivotal importance for a child to get into a good school. It seems as if only this can ensure a bright future for them. Because of this, the parents start to battle for their children so fiercely that soon it is hard to tell what exactly are the real goals of this fight or against who they are battling at all.
Director Margo Teder
Designer Pille Jänes
Light Designer Triin Hook
Cast
Elina Reinold, Liisa Pulk, Maria Avdjuško, Meelis Põdersoo, Ago Soots, Tanel Saar

Don Quijote
Comical tragedy based on the same-titled work by Cervantes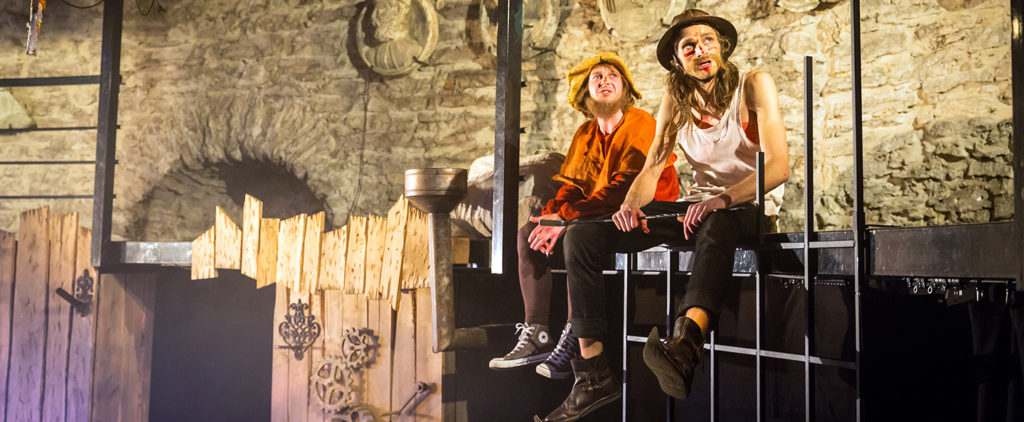 In 2017 it will be 401 years since the death of the famous Spanish writer Miguel de Cervantes. A lot of time has passed and some things really have changed. Today no-one will be sold as a slave on a galley, as happened with the world-famous author. But the pirates are still there – they just forgot about the galleys and use modern technologies now.
Now it seems that we´re living in a bigger world than Cervantes was. We have airplanes. We land on planets and melt the ice sheet. But has human nature also changed? Fame and honor, joy and desire, sadness and jealousy still accompany the modern don Quijotes on their journeys. Time is a deceptive fella, he creates the illusion of change, but the human soul doesn´t develop like this and suddenly it feels that the legendary novel of Cervantes is writing about the present-day.
Director Aare Toikka and designer Kaspar Jancis create a playful world, where many realities exist at once: the golden days of Spain, the grey days of Soviet Estonia and the completely confusing days of today´s global village. Suddenly Don Quijote doesn´t seem the craziest of us at all.
Author & Director Aare Toikka
Designer Kaspar Jancis
Light Designer Sander Põllu
Choreograph Marge Ehrenbusch
Fight Choreograph Tanel Saar
Musical Design Aare Toikka, Kaspar Jancis and Peeter Rebane
Cast
Ago Soots, Elina Reinold, Meelis Põdersoo, Margo Teder (all VAT Teater), Lauli Otsar, Risto Vaidla, Markus Habakukk (all Kuressaare City Theatre)