Reference Production 2016
Suddenly The Night
The premiere took place during the Festival d'Avignon in 2015, which was also one of the producers of the show, as well as the Théâtre Massalia. It has since been touring to theatres around France this season.
The play takes place in a big European international airport, in the observation room of the airport medical service. In the room time seems to have stopped and the people too, as they can't leave the room. They can hear planes taking off and landing in the day, and silence at night.
So they talk, dream andbabble deliriously. They see ghosts. Among the travellers, a mysterious doctor seems to babble too and frightens them by making them have a clearer look at the world around them as the night goes on.
The play asks the audience questions about the identity of Europe today, relationships to foreigners – the others… But it is also an attempt to build a poetic and political way of living in today's society…
The teenagers, who saw the show at the La Friche, were very moved and impressed, by the actors and by the whole play. They had a lot of questions afterwards. They also felt that they had been considered as (almost) adults to be invited to attend such a show. And they liked it.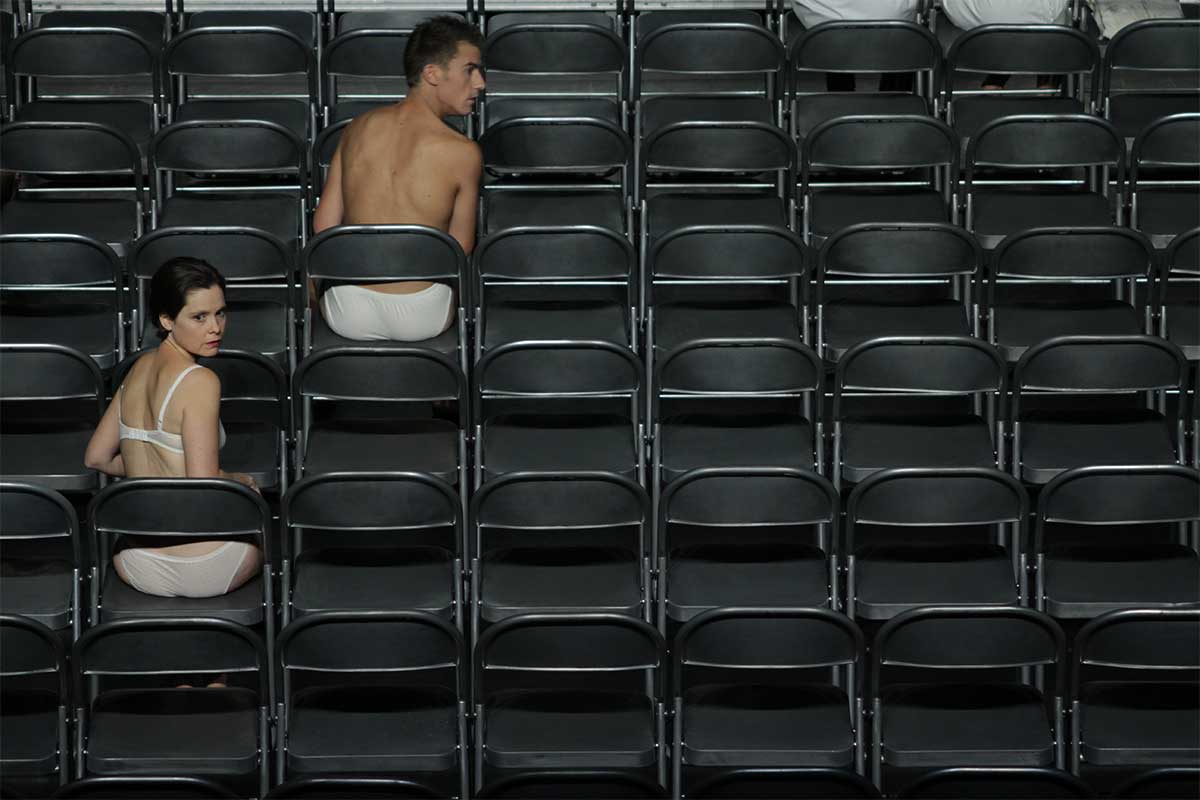 Le Braquemard du Pendu by Mondiale Générale with Alexandre Denis and Timothé Van der Sten
Alexandre Denis, a circus artist, and Timothé Van der Sten, a technician, invented an exciting new tool for circus two years ago: the wood shoring. This play introduces two characters and uses this new wood shoring tool.
Circus is made using the constant repetition of simple and successful movements. Here it looks like rituals, nonsense rituals. There is no more space and time, no goal, no reality.
It may be a dream or a nightmare, or both…
The two characters don't have any name, past or future. No one knows why they are here. Questions are useless. Only presence and actions count, for the audience's enjoyment.
The play is amazing. Sometimes it is slow, because balancing on wood shoring involves a lot of attention to space and rhythm. It is also absurd and of course funny.
It was presented at the end of February in La Friche at theatre Massalia. The young audience liked it a lot and the adults did too: they had fun but they could also see metaphors of some real life situations.
The artistic team also held workshops with two classes of primary schools. The children were happy to discover some circus techniques and to talk about the show. The performance has two versions,
a longer and a shorter performance. We presented the longer show, but the short version has also been very successful and toured both in the south of France and the whole country.