Reference Production 2016
ROCKS KEEP FALLING FROM THE SKY
Kristjan Jaak Peterson (1801-1822) carries such importance for the Estonian culture that his birthday is celebrated annually by Native Language Day. The weight of Otto Wilhem Masing's (1763-1832) significance is no less – he created the letter 'õ' in Estonian language, not to speak of other innovations and changes. These two should definitely not be confused with Jaak and Otto, the characters in this production. These two also make great deeds but on top of that they have to resolve a very burning question: which time and place have they ended up in?
The author Paul-Eerik Rummo had his starting points in history and Jaan Kross's novel "The Rock from the Sky". Rummo
has created a diverse world with no geographical or time borders, where people can live forever. What becomes more crucial is whether their goals and dreams come true. Is the rock that fell from the sky a sign of benevolence from higher forces? Can Jaak become the icon for great national aspirations? Will Otto's wife stay by his side, or will she embark on a new mission that is more closely related to Jaak?
"Rocks Keep Falling from the Sky" is tightly interwoven with citations and mythologies, and it takes the audience from Tartu to Italy, from Tuule Pub to Neverland.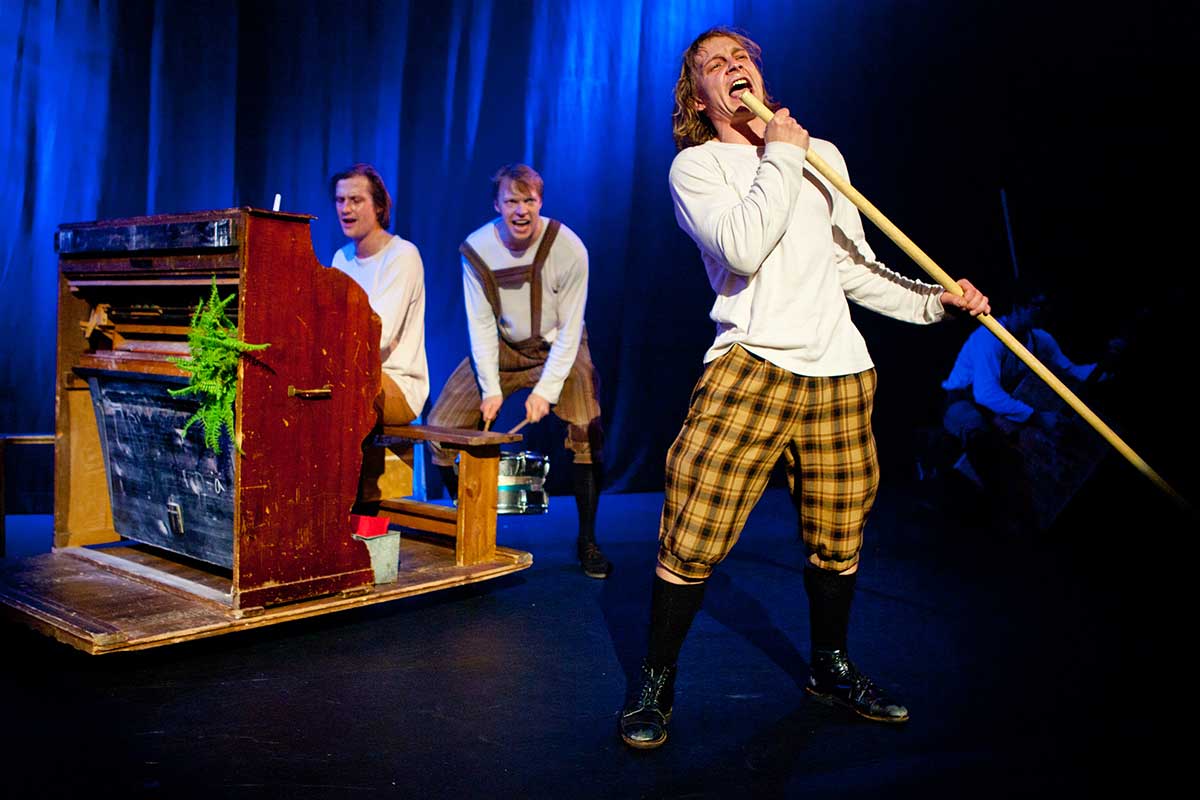 Reference Production
ESTONIAN HIKIKOMORI BY TIINA LAANEM
…if you must get your act together but lack the willingness to fight, to break through, to work crazy hours and to burn out by having to surpass yourself on a daily basis.
…if an ancient Estonian fear lives inside you: the fear of making a fool of yourself in front of others. That fear makes you give up on things and rather not try them than to feel the shame brought on by failure.
…if you feel disappointment over not being in control of your destiny; maybe someone else is in control but it is definitely not you.
…if you don't have any plans, not even the tiniest one. Everyone has a plan but you don't.
You exist. You cannot help it.
You exist. No one asked you, why? All you can do is somehow justify your existence. Others expect that, every day. But how to do it…
…if you don't want to leave your room any more because there's no place for you out there. If you are like wallpaper that no one even notices.
…if you live in a country of beautiful people where it's shameful to be ugly, but you are just plain looking, one could even say a little bit ugly, but not ugly enough to seem interesting.
And yet you considered yourself to be somehow special. They always said you will probably end up as a scientist, a writer or a statesman because you were so sharp and so clever. All the roads were indeed open for you.
Target group: 14+
Director: Margo Teder
Set/Costumes: Liina Unt.
Lightning designer: Triin Hook
Video Artist: Rivo Laasi.
Cast: Kristiina-Hortensia Port, Martin Kõiv and Meelis Põdersoo
Premiered March 24, 2015