13 large meetings with lectures, workshops, and training opportunities are scheduled to be spread over several days and will be held annually during the 4 years project.
The Creative Forums will be attended by PLATFORM shift+ delegates and will also be open to a local/regional public audience including young people. Global audiences will be connected through digital channels as each forum will be livestreamed.
Each Creative Forum focuses on a different aspect of the theatre/technology partnership linked into specific phases of PLATFORM shift+. Select the forums below to expand and find out more about the event, including videos of the speakers:
Lisbon Creative Forum
shift/alt – ARTS LEARNING TECHNOLOGY

The Creative Forum in Lisbon was produced in association with the Academy for Theatre and Cinema, Lisbon ESTC and Teatro Bando.
On the 8th June 2015 speakers from across the globe discussed the following themes:
SPEAK
The use of emergent technologies in how we communicate with each other and our audiences.
STAGE
The use and integration of digital technology to provide other dimensions to performances.
SHARE
The use of a multi-platform approach with these technologies to share and distribute our work.
SHAPE
The use of technology as stimulus for the creation and content of work.
---
Watch the Creative Forum
Lead partner Pilot Theatre livestreamed the event, with people from 20 different countries watching the forum online. You can click below to watch the videos and the speakers, as they offer thoughts and practices for navigating through the shifting digital landscape.
Programme of Speakers
Budapest Creative Forum
shift / cmd CREATIVE MEDIA DELIVERY


The second PLATFORM shift+ Creative Forum was hosted at Kolibri Színház on Sunday 19th June and was integrated into their myStory Festival.

This forum related to the preparation of the co-production-processes, with their special focus on accessing new "hard to reach" audiences by the use of digital technology:
Creative exploration of technological tools, digital mechanisms and machines.
Learning about new delivery mechanisms such as webcast, live streams and sharing content across digital platforms.
Developing new ways to make live theatre exist across the web and app based devices.
Exploring how theatre products can achieve longer life and legacy through digital technology
Discover new ideas for facing the digital future. Get inspiration from the scheduled speakers as they offer thoughts and practices for navigating through the shifting digital landscape.
Watch the Creative Forum
Creative Forum 2016: Programme of Speakers
Sunday 19th June 2015

Speaker 1 | "Emojis and Language" Karina Frick

Speaker 2 | "Igniting Children's Creativity as Active Co-creators" Stuart Grant

Speaker 3 | "Abandoned Generations with Limitless Opportunities" Eva Gyarmathy

Speaker 4 | "Virtual Reality or Virtual Insanity" Florian Muller

Speaker 5 | "Virtual Reality and Audio Creativity" Damian Murphy

Speaker 6 | "The Future is here to Stay" Frank Reichert
Estonia Creative Forum
shift / ctrl CULTURE TECHNOLOGY & REAL LIFE

The third PLATFORM shift+ Creative Forum was hosted at VAT Teater on Friday 7th and Saturday 8th April.

This forum related to the discovery of new ideas for facing the digital future and to the preparation for the Final Production with a focus on the participation of young people as co-creators:
Exploring how technology functions in real life and the influences it has on cultural behaviour and thinking.
Experimenting with mobile devices to create and deliver artistic content in partnership with audiences.
Space and support to share new ideas discovered during the project and experiment practically.
Watch the Creative Forum
Friday 7 April


Speaker 1 | Interventions for People's Smart Sculpture

Martin Koplin, M2C Bremen, DE
Jørgen Callesen, WH9 Copenhagen, DK

Speaker 2 | Interactive Narratives

Marian Ursu, Digital Creativity Lab, Uni York, UK

Speaker 3 | The Anatomy of Collaboration

Loore Martma, Tallinn, EE

Speaker 4 | Smartdust – Future Visions

Jürgo Preden, Menlo Park, California, USA

Saturday 8 April

Speaker 1 | "I have only shown that there is a bomb" – Facebook analysis and the campaign of Donald Trump

Hannes Grassegger, Journalist, Zurich, CH

Speaker 2 | Big Data – so what?

Kalev Pihl, SK ID Solutions, Tallinn, EE

Speaker 3 | Use of social media in the Arabic spring and Islamic State
Dirk Emmerich, Journalist n-tv, DE
---
In the first 3 seasons the Creative Forums took place at a single theatre partner location. In the final season each theatre creates its own Creative Forum at its home location (in 10 European cities).

In order to involve young people as audiences/participants in season 3 an International Youth Encounter took place alongside the Creative Forum in Tallinn. In season 4 young people will participate in the 10 Creative Forums fully as performers, co-creators and audience.

Creative Forum: Theatre Massalia (France)

Marseille (La Friche la Belle de Mai) 31th March, 2018 

#VIVANT/ (#LIVING)

"Languages, humanities, ways of communication, tools…, living shows have been impacted and, sometimes, transformed by Digital".
Based on the artist Michaël Cros' research topic for his ÜBM show, we imagined a day of reflection, meetings and practice to question our relationship to the Living (human, animal, plant, microbial …) in a digital world.
Artists, academics, hackers… have questioned and delivered their point of view. They also put us to work in a series of 5 workshops, which aimed to introduce in a playful way, artistic and citizen uses we can have of it."

The Creative Forum took place in collaboration with a key structure in this field: ZINC Digital Art and Culture

theatremassalia.com/evenement/vivant

Massalia Web trotters live-stream

Creative Forum: Teatro Elsinor in Forlì (Italy)


April 24th, 2018 Forli (Italy)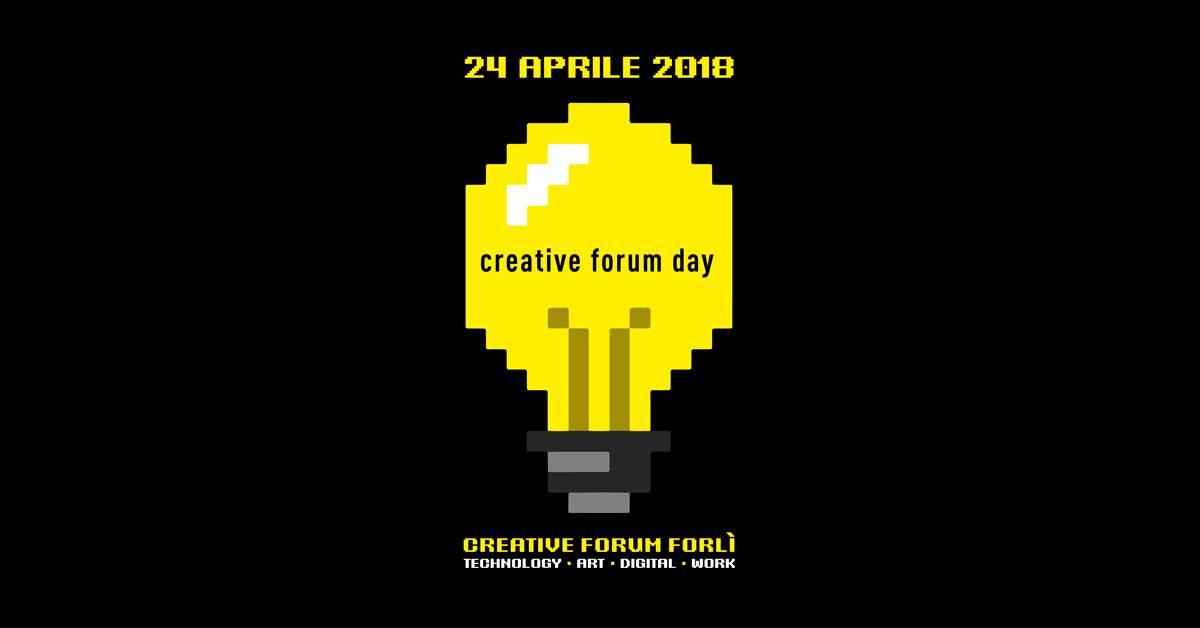 The Creative Forum Forlì, hosted by the Province of Forlì-Cesena in Piazza Morgagni, is an event aimed at new generations. It started in February 2018 with a series of shows presented at Testori Theatre and ends on April 24th with the Creative Forum Day. At this day it will be possible to participate freely in conferences, seminars and practical workshops. The experiences are aimed at gaining new digital and technological skills and the exploration of the relationship between technology and art. Together the participants will reflect the use of digital tools and the impact they have on our lives. Thanks to live streaming the event will not only reach not the local audience but also an international one, thus becoming a global multimedia event.

Creative Forum: tjg.Theater Junge Generation (Germany)

May 5th, 2018 Dresden

Digital technologies effect all working worlds – including the theatre. And in the digital world, the digital concerns all areas: the art, the processes in the company, communication with each other and with the audience. The Creative Forum will be part of the 10th Saxon Theater Meeting and is inviting the employees of all departments, trades and ensembles of the Saxon theaters to spend an afternoon learning about the developments and possibilities of the digital in the theater – on stage, behind the stage, in offices and workshops. Experts will give an overview of current topics in 30-minute lectures.

Themes & Speakers:


How can customer data from ticketing be used efficiently to increase revenue and overall seat occupation? 
Simon Glöcklhofer and Hannes Tronsberg (actori GmbH, Munich) 

What additional earnings potential do innovative (digital) pricing strategies offer cultural institutions? 
Simon Glöcklhofer and Hannes Tronsberg (actori GmbH, Munich) 

How can I design digital discourses as a theater and involve my target group(s)? 
Anne Aschenbrenner and Marc Lippuner (Die Kulturfritzen, Berlin and Vienna) 

What makes a successful theater website? 
Christoph Macha (dramaturg, tjg theater junge generation Dresden) 

What chances and opportunities do the latest technologies such as social VR / AR / AI offer the stages and the theater of the future? 
Björn Lengers and Marcel Karnapke (CyberRäuber, Berlin) 

What do theaters need, what do actors need to learn to bring the new technologies to the stage? 
Björn Lengers and Marcel Karnapke (CyberRäuber, Berlin)
 


Digital media practice in the performing arts: what else needs to be done? 
Mario Simon (Head of Video Department, Schauspiel Dortmund) 

Why are social media guidelines so important? 
Melanie Janka (Social Media Manager, Ostsächsische Sparkasse Dresden) 

How does Digital Modernity change the storytelling techniques and contents of the theater? 
Michael Eickhoff (Chief Dramaturg, Schauspiel Dortmund) 

What do digital media have to do with puppetry? 
Julian Jungel (Teacher for the Artistic Workshop Teaching, Academy of Dramatic Arts "Ernst Busch" in the study of contemporary puppetry, Berlin) 

What new forms does a theater invent that is digitized? 
Daniel Wetzel (director and co-founder of Rimini Protokoll, Athens and Berlin) 

Which narrative of the digital world can adapt a stage drama? 
Clara Ehrenwerth (dramaturg, author and managing director of the game theater collective machina eX, Leipzig)

Creative Forum: Kolibri Theatre (Hungary)

Kaposvár, University of Kaposvár, 7th May 2018

Kolibri Theatre organises its national Creative Forum as part of the yearly Assitej-festival in order to give an opportunity to the visitors to learn more about the latest digital technologies, discovering new aspects, questions connected with Internet.

The programme will contain three TED style talks from international experts, and two hands-on workshops. The latest experiment of using binaural sound in theatre in collaboration with Teatret Vårt (Norway) and the Small Theatre Ceske Budejovice (Czech Republic) will be presented.

In this playful demonstration audience members / participants can visit three different locations with their headsets individually. They'll listen to pre-recorded soundscapes during their they discover the dramaturgical function in each story. The three short pieces follow the structure of different genres like ghost story and thriller in which sound effects plays the most important role.

Creators: Cecilie Lundsholt, Ingvar Kristensen, Elisabet Topp, György Vidovszky, Gergely Blahó, Patricia Pajor, Veronika Riedlbauchová, Jan Čtvrtník, Jan Pisa

Creative Forum: Teatro O Bando (Portugal)

Palmela, 17th June 2018

A moment to talk about the digital world, the new technologies and the way we interact with them and they interact with us.

A moment to ask how the media uses the information we use.

A moment where national and international speakers become workshop leaders and vice-versa.

A moment to reach young professionals and theatre amateurs that have different groups and initiatives and want to know how they can become technically more independent, more autonomous, more comfortable with using digital tools in a DIY mode, without expensive equipment or serial number budgets.

With the participation of

Dirk Neldner (media thought designer), Ponto Zurca (sound designers), Contrapeso (light designers), Dragonfly (photo and drone designers), Le Nomade Village (French video and media designers), Elsinore Centro di Produzione Teatrale (Italian co-production partner), Pilot Theatre (British co-production partner)

Creative Forum:Emergency Exit Arts (Great Britain)

London, 27-28 September 2018

TECHNOLOGY AS MAGIC 

This Autumn Emergency Exit Arts will invite curious people of all ages to our Creative Forum to explore and discover digital technology and its relationship with theatre and the arts. This day long experience fuses together provocations, seminars and practical workshops inspired by the theme "Technology as Magic". The event will reveal inventive and innovative digital arts practice that enchants people and enhances public spaces.  As part of the Creative Forum delegates will be dazzled by industry professionals as they share the knowledge, ideas and magic that leads to the creation of playful, interactive experiences and visual spectacle.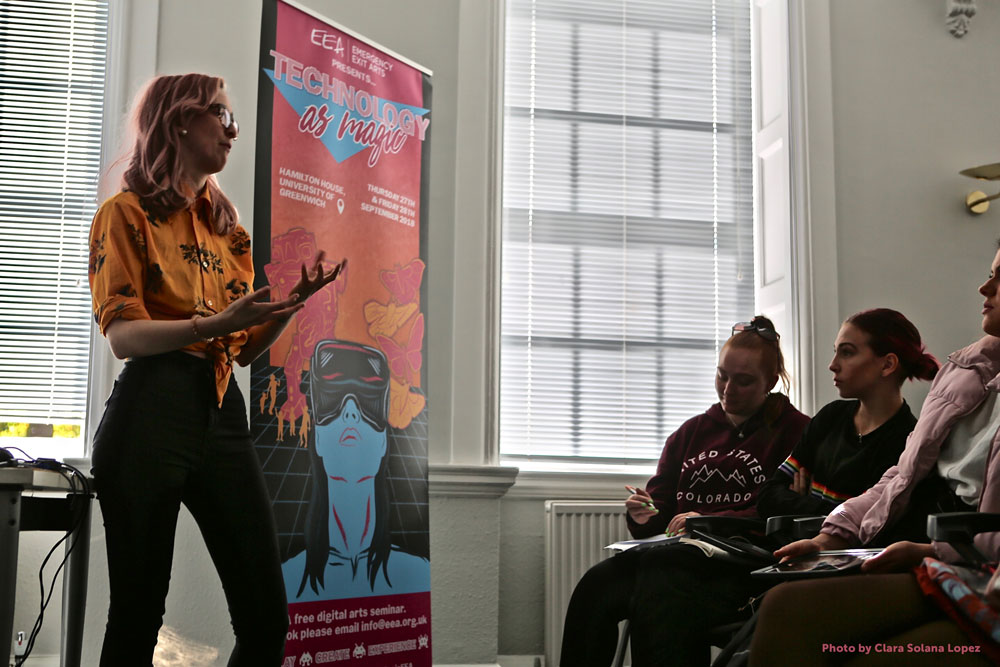 Creative Forum:Pilot Theatre (Great Britain)

York, 1 – 2 October 2018

Continue: Videogames and Culture


Leading practitioners from cross artform projects will unite to exchange secrets and perspectives from the bleeding edge of multimedia storytelling and narrative.

Brought to you by Pilot, The British Games Institute (BGI) and York Mediale, this ambitious two-day melting pot of ideas features industry heavy-weight speakers from the cultural and gaming sectors, open discussion and candid sharing, a micro-game jam and exclusive project demos from immersive tech to theatre.

Creative Forum: Teatret VAT (Estonia)

in co-operation with HITSA (Information Technology Foundation for Education)

Tallinn, 11th October, 2018

As part of a bigger conference the focus will be on new technological possibilities, that schools are trying out. It will talk about success-stories and also about failures and dangers in that field.

The Creative Forum will open more the theme of creativeness and innovation in theatre, that can also be useful for educational field. A forum theatre presentation will take place.
The conference will be in Estonian and English and will be live streamed.

Creative Forum : University of Agder (Norway)

Kristiansand, 12th October 2018

The theatre section at Department of Visual Arts and Drama, Faculty of Fine Arts University of is giving their Creative National Forum the day before the official opening of, and in collaboration with, SAND International Festival of Performing Arts for a Young Audience.

There will be several paralleled sessions of workshop conducted by staff from Faculty of Fine Arts, Faculty of Engineering and Science and from invited international guests. Among others are The Gob Squad Arts Collective giving one of the workshops, and a plenum talk about the project My Square Lady.