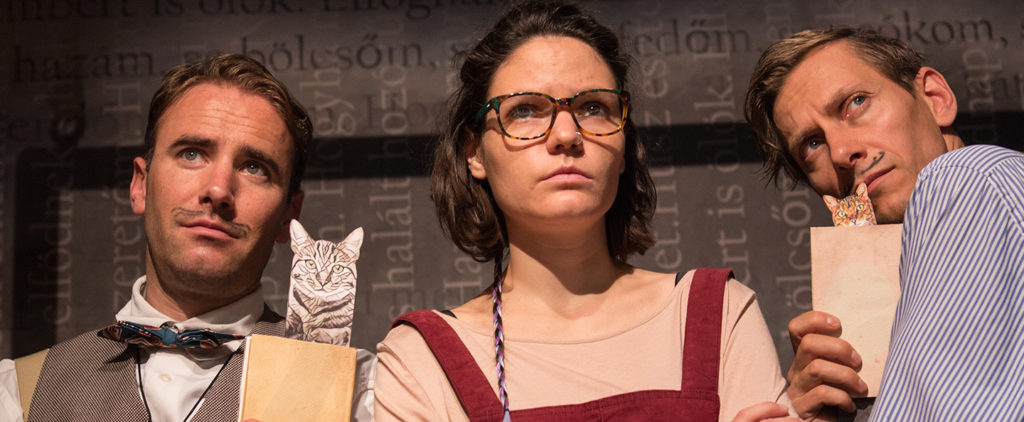 The play is about a teenage girl who has bad grades at school and often gets into trouble for being cheeky and outspoken. Her parents are divorced, so she is left alone with no one to count on. She only has two true friends: Dezső and Frici – two cats who act really strange. They smoke cigars and cite Hungarian literature, especially the works of Dezső Kosztolányi and Frigyes Karinthy, two poets from the turn of the 20th century. The two cats – or as the girl sees them, the two poets – help her to overcome the trap she finds herself in with her family. A drunk mother, abusive step-father, unseeing grandmother, lying brother, weak-willed father and a thick-skinned teacher.
The story is based on true elements of the playwright's life, who, when she was a teenager, didn't love or understand literature the way that it was taught. However, she had an intimate and personal relationship to it, which helped her to deal with problems more easily.
The play is full of humour despite the cruel circumstances that the girl spends her everyday life in. The title of the production refers to the first lines of a well-known Hungarian poem, which are cited in the play by the girl.
Director György Vidovszky
Set & Costume Ákos Mátravölgyi
Music András Monori
Movement director Eszter Gyevi-Bíró
Cast
Anna Nemes, József Tóth, Juli Erdei, Dávid Szanitter, Szabolcs Ruszina, Krausz Gábor, Éva Farkas, Melinda Megyes, Bodnár Zoltán