DAS NUVENS (OF THE CLOUDS)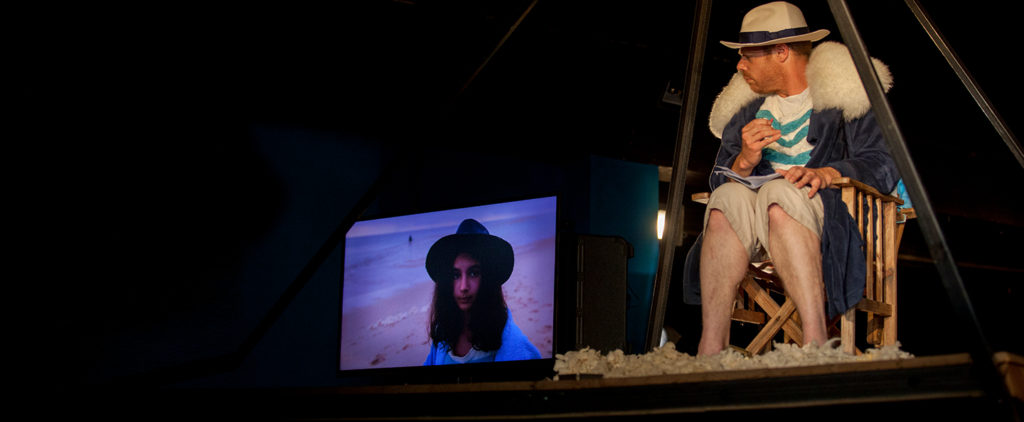 Based on a tale written by the Italian-Portuguese author Antonio Tabucchi, Das Nuvens is a show about the future, hope and tolerance.
We arrive on an almost imaginary beach, with a disquieting girl speaking with a disquieted ex-military man. Meanwhile, the clouds go by, falling, as the harp's chords echo, the wool piles up and time flies.
This is an intimate show where video feeds take us back and fourth between future and past.
"Let's see how the world is going, this wide world that dances so joyfully, maybe not that much. The newspapers are tiresome, the news is tiresome, the world is tiresome. The world is tiresome because it is tired."
Take a seat here.
It's good to occupy the body with this simple act of seating and thinking.
We are on this side of the clouds.
We're two, two ages and two faces.
– She's a little girl full of logic.
– He's a tired man.
We'll gladly tell you this tale of war and peace, but you can write it yourself.
For you have an advantage, compared to us: you don't know who has lived through it.
Its simple: some build, some destroy.
There is no justice in this story. Just two ideals.
Dramaturgy and Direction JOÃO BRITES
Direction support JULIANA PINHO
Music JORGE SALGUEIRO
Scenography RUI FRANCISCO
Costumes and props CLARA BENTO
Support to the Orality RITA BRITO
Light design JOÃO CACHULO
Video MIGUEL MARES and RITA SANTANA (Dragonfly) Cast GUILHERME NORONHA and MARIA GONÇALVES