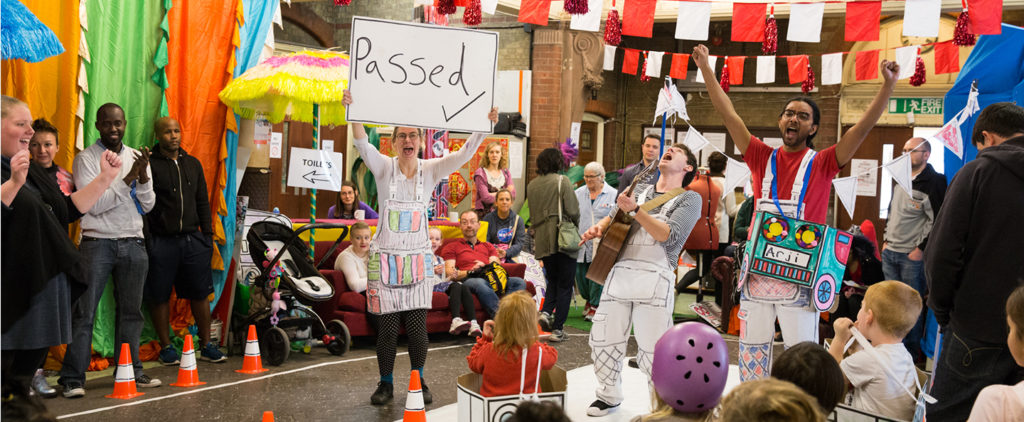 The Cabinet of Oddities & Curiositiesis a co-produced creative learning project with Corelli College, who are a Greenwich based secondary school. The project was designed to inspire young people's curiosity, imaginative thinking and creative writing through involving them in an unravelling narrative, instigated through an interactive cabinet installation which would magically appear in school one morning.
Throughout January – March 2017 the project toured to multiple primary schools and museum settings and it tracked the story of a missing explorer (Louisa Potts) who collected unique and strange objects and placed them in the cabinet for safekeeping. Since her disappearance on her expedition to the Bermuda triangle, the young people learnt that the cabinet appears in locations where it believes inspiration lies and stories are waiting to be told.
Using the objects and the cabinet, EEA's artists (in role as "Collectors") worked with the young people to use the contents as sources of inspiration that could inspire pieces of creative writing, from writing memoirs from the objects' perspective to creating pieces of poetry. A spectrum of approaches was used to engage the young people including: object handling, large scale storytelling and stories being shared through Bluetooth wireless headphones.
Creative Team
Collector Simon Batchelor, Amie Taylor
Co-Producer & Writer Ross Bolwell-Williams
Designer Jessica Drader
Stage Manager Diana Jones
Collector Madeline Kludje
Associate Artist & Sound Designer Arjunan Manuelpillai Co-Producer Shermaine Slocombe