ON TRADITION: THE YOUNG GENERATION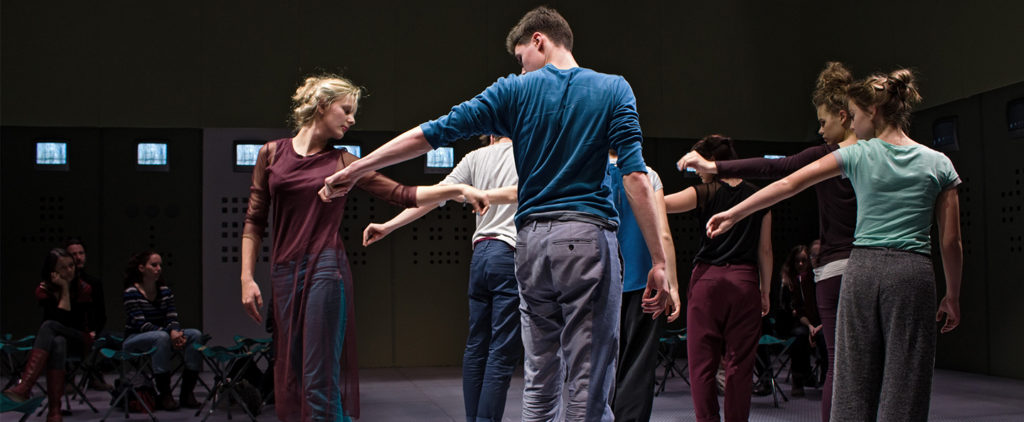 The production was one of seven events commissioned for the opening of the tjg.'s new venue in the centre of Dresden. The production continues the work of a major Berlin-based project entitled On tradition from 2015, created by the choreographer and video artist Jo Parkes. The video series On tradition was created in the Wedding district with twelve residents or shopkeepers from one street. It focused on the cultural diversity and differing perspectives around tradition.
On tradition: the young generation is also a video series: seven young people, who live in the centre of Dresden or go to school there, deliver short films reflecting on an aspect of their lives that is linked to the topic of tradition. They tell of celebrations and rituals, of self-assertion and about how their own interests are shaped by the family environment. All these themesare expressed by them in the form of dance. The videos are presented on the stage via monitors. The spectators, sat at stage-level, look at them as seven other young people revolve around them in real-time. All the participants are experienced in dance and/or theatre and some of them have been active in the Theaterakademie for several years. They act as mediators between those who are portrayed in the video and the audience by appropriating the gestures of the new "neighbors" and by using them to build new movements. This creates a dialogue between interior and exterior, foreign and familiar, present and absent.
Concept and choreography Jo Parkes
Stage design and costume design Grit Dora von Zeschau
Shooting Ute Freund
Editing Lena Hatebur, Marco Prill
Music Pete Fraser
Dramaturgy Kathi Loch
Theatre education Julia Kuzminska
Premiere 17. Dec. 2016